David Alexander arrived at 8:33 p.m. on March 1, 2012 weighing 7 pounds 5 ounces!  I thought it would be fun to share his birth story and some pictures with you, and then offer a terrific giveaway of my two FAVORITE lullaby CDs.
On Wednesday, February 22 I went to the Dr. for a check and was at a 3 and 70% effaced.  My parents and two teen aged boys were already in San Antonio for the Christian Film Makers Academy, and my husband and next two oldest were flying out that afternoon to join them for the festival.  These were all my "support" people in case I went into labor…and they would all be gone until Sunday, February 26.  I was at home with a 1, 4, 6 and 8 year old.
And I started contracting that night.
I called my sister and a friend to see if they could be "on call" for the next few days (and nights!) in case I had to go to the hospital.  Prodromal labor continued throughout that night, but subsided the next morning, and I ended up having a very quiet week end with little uterine activity.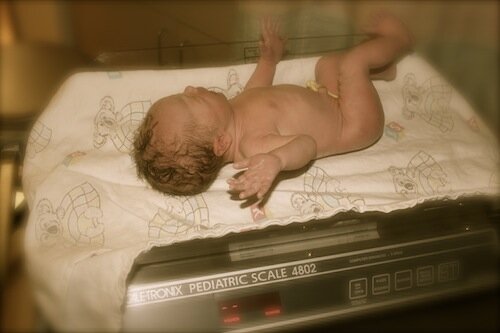 The following week, prodromal labor kicked in a couple more times, both times getting me up in the middle of the night to shower and "get things ready" to go to the hospital.  Both times the contractions ended up subsiding, and I was thankful.  My ducks weren't quite in a row yet, and I needed just a few more days to tie up loose ends.  Plus, I was hoping NOT to have a leap year baby on the 29th.
When I woke up on March 1st, I was ready.  Leap year was over, our soap business was shut down for a month, I had this blog scheduled out a couple of weeks in advance, and my mom was coming over for the day to play with the kids while I ran a few errands and took my 15 year old son out for lunch.  (Once a week I take a different child out with me…gives us a chance to connect one on one without the distractions/demands of home life.)
It was a very relaxing morning, and I had been having contractions, but they were just the annoying kind…nothing that indicated I was starting up.  And then I got to thinking…
I had a friend who swore by a castor oil concoction from her midwife that successfully put her into labor four times when she was overdue and ripe for labor.  In the past, I've googled "castor oil for labor induction" and read a lot of horror stories about throwing up, diarrhea, severe cramping, etc.  Not to mention the hurdle of actually drinking the stuff.  Just the thought of it made me want to loose my cookies.  So I had never seriously considered trying it in the past.
BUT…my friend told me HER concoction did not cause all those side effects and was very effective.  I decided it might not hurt to do a HALF dose…and see what happened.  My greatest fear was pushing out more than just a baby on the birthing bed.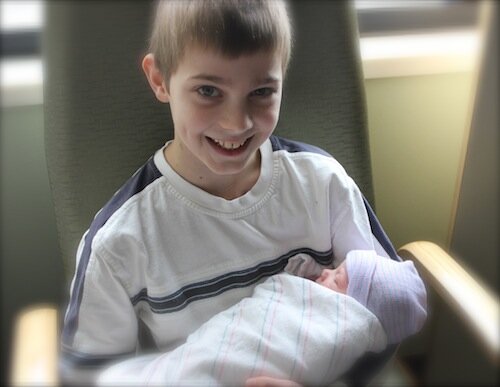 Just so you know…this particular recipe is circulating on the web, so it isn't anything new here.  BUT…I must tell  you that I drastically changed it up, since I didn't have the ingredients the recipe called for.  I'm NOT recommending anything here.  I'm not a midwife, doctor, doula, or anything else remotely related to labor and delivery.  I'm just a woman who wanted to have my baby.
The original recipe called for 2 T. castor oil, 1 T almond butter, 5 drops lemon verbena essential oil, 1 cup apricot juice, and some crushed ice.  (Where was the spoonful of sugar to help the medicine go down???) Apparently you are supposed to drink this thing within a 30 minute time period, and then drink another one an hour later.
So I went to our local health food store.  They didn't have apricot juice or lemon verbena essential oil.  I didn't want to spend $153 on a tub of almond butter (OK…slight exaggeration, but the price WAS outrageous) when I could make it myself in my Vitamix.  So I went home, left to my own devices.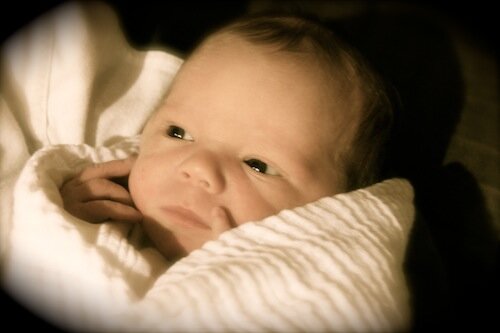 Time to get creative.  I threw some raw almonds into my Vitamix.  To make almond butter, you need to add an oil to the almonds.  Guess what oil I chose?  Next I added some frozen peaches.  Why?  Peaches are orange, like apricots.  And I figured the Vitamix would liquify them enough to make them like a "juice".  OK…so far so good.  Now for the lemon verbena essential oil substitution.  How about a couple tablespoons of lemon juice?  I had that on hand…and it had the word "lemon" in it.  Good enough.
Blended that all up…took one look…and almost threw up.  Clearly, it needed something else before I would be able to stomach eating it.  I rummaged through my freezer and found one of my favorites: Lime Sherbet!  JUST the thing!
Once I got a generous helping of lime sherbet blended in there with the rest, I knew it was ready for human consumption…and I consumed.  It was actually quite tasty.  And while I was still pretty skeptical that it would put me into labor, at least I was enjoying a fairly decent little treat at 2:00 in the afternoon.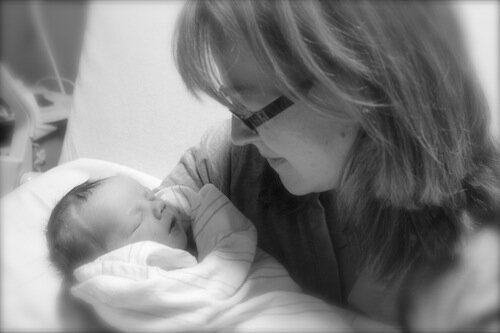 Nothing happened.
I said good bye to my mom at 4:30 and began to make supper.  Suddenly, just like in the MOVIES (cool)…I began contractions that were coming every 2-3 minutes and lasting about a minute long. By 5:00 they were starting to hurt a little.  By 5:30 they were hurting a LOT, and I headed to the hospital, arriving at 6:00.  I was only at a 4, and the contractions were now spacing out a little, but lasting longer and coming in nice, even, rhythmic waves.  Just the way you want them to.
By 7:30 I was at a 6 and had an epidural.  (To hear my take on epidurals, see my article HERE.)  My water broke at 8:00, and my husband and I realized we had forgotten to call my mom and our daughter…they both wanted to see the birth.  Now we wondered if they would arrive in time.  At 8:30 I was at a 10 and ready to push.
My mom and daughter came in the room just in time to see the head crown on its own…no pushing necessary…I began a push…the head came out with the cord wrapped twice around the neck.  The Dr. unwrapped the cord, and she let me "catch" the baby with the rest of the push as he slid out.  I held him a moment and cried.
We completely forgot about whether or not it was a boy or girl until the nurse asked, "Do we know what this baby is?"  We gasped…turned it over…and there it was.  A boy!  I was excited!  Our next youngest (almost 2) is a boy, and he is preceded by three little girls who delight in putting him in tutus and flower hats.  He needed a little brother.
Now that we've come to the end of the birth story, you may still be wondering just what, exactly, put me into labor?  Was I going to go into labor anyway?  Was it the castor oil cocktail?  Personally…I think it was the lime sherbet.  Mmmm…I think I'm going to go have a bowl right now…
God sends children for another purpose than merely to keep up the race—

—to enlarge our hearts; and to make us unselfish and full of kindly sympathies and affections; to give our souls higher aims; to call out all our faculties to extended enterprise and exertion; and to bring round our firesides bright faces, happy smiles, and tender, loving hearts.  My soul blesses the great Father every day, that He has gladdened the earth with little children.

Mary Howitt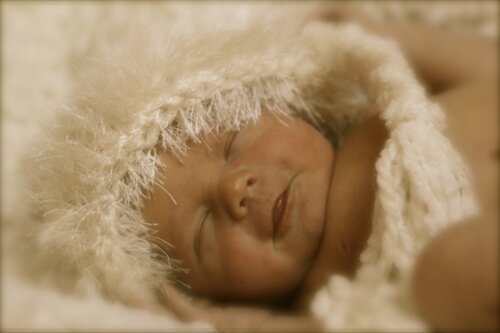 To Celebrate: A Giveaway of Two Scripture Lullaby CDs!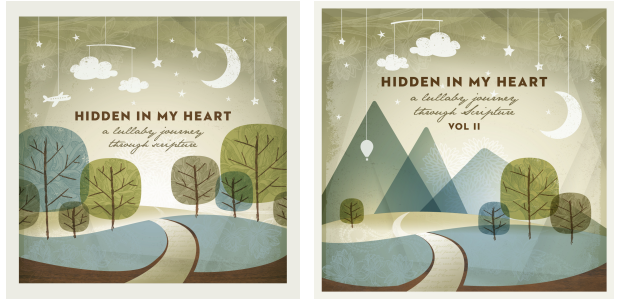 Hidden in My Heart Volumes I and II are, by far, my favorite lullaby CDs!  The music is absolutely gorgeous, and the words are pure Scripture…nourishing and soothing to the spirit.  My older "littles" love to go to sleep to this music as well…and I enjoy laying in their room with them and letting the peaceful calm pour over my own soul.
I LOVE to give these as baby gifts.  They are unique…and a huge hit with everyone…especially moms who already have several children and don't really need any more baby clothes or gizmos.  You can get discounts for purchasing more than one at a time, which is great because I like to have several of them "on hand" for those last minute gifts.
Do you need to give a gift to a friend who lives far away?  Buy a digital download copy and send it to them electronically!  How convenient is that?  They even have e-cards to coordinate with your special gift!
Want to hear a sample? (If you are reading this in your e-mail, you'll need to click through to the blog to hear/see the sample.)

(OK…tell me…even if you don't have a baby in your home, wouldn't you love to listen to that every day?)
One of you will receive both of these beautiful CDs!  Here's how to enter the giveaway (leave a comment for each entry!  One entry per comment.)  Winner will be announced Friday, March 9.
Share this giveaway on Facebook or Twitter!
Go to the Scripture Lullabies website and "Like" them on Facebook.
Place an order with Scripture Lullabies.
Like Visionary Womanhood on Facebook.
Subscribe to Visionary Womanhood's e-mail posts.
Related posts: