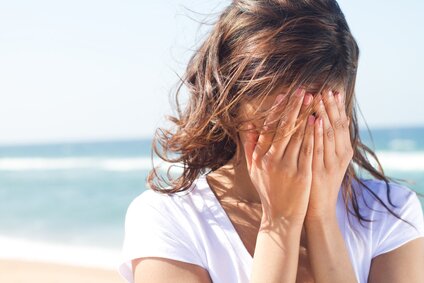 In our family of 11, there are 55 different relationship combinations.  Under one roof.  That's a lot of potential blessing…and a lot of potential pain.  Wemmicks get close, and then suddenly…ouch.  Back off.  Pain.  Anger.  Revenge.  Sadness and sometimes…depression.
If you're human, and if you live with humans, you've battled this.  And sometimes when you've worked through all the garbage and found a place of forgiveness and peace…another incident occurs that hurtles you into another tailspin, and you're back to square one.
We know the keys are repentance and forgiveness.  But how do we get there…over and over?  And how do we teach our older children to do something we struggle with ourselves? 
I want to share four focus points along with a prayer I've used over the years to help me deal with my most difficult relationships.
1. Learn, along with your children, that Wemmicks are small and God is BIG.  Wemmicks will hurt one another.  But the Wemmick-Maker is always faithful.  Always "there."  Always involved.  Always loving.  Always watchful.
He doesn't operate out of selfish motives.  He doesn't make a promise and never keep it.  He doesn't lie.  He doesn't play favorites.  He doesn't play tricks.  He's not out to "get something."
We must not look to Wemmicks for what only God can give.
Resource recommendation: When People are Big and God is Small by Edward T. Welch
2. Be humble enough to acknowledge the ways you betray others.  Repent and seek forgiveness.  Accept the forgiveness that God offers to you through Jesus Christ.  Be free.
See "The Parable of the Unforgiving Servant" for more insights.
Recommended resource: Rekindling Your Spirit by Paul F. Singh
3. Cultivate an attitude of gratitude.
Recognizing that ALL circumstances in which we find ourselves have been sovereignly allowed by God, including difficult relationships, we can look for His hand at work in them and be thankful for all He is doing to strengthen us, build His kingdom and bring glory to Himself.
Count it all joy, my brothers, when you meet trials of various kinds, for you know that the testing of your faith produces steadfastness. And let steadfastness have its full effect, that you may be perfect and complete, lacking in nothing.  James 1:2-4
Resource recommendation: The Rare Jewel of Christian Contentment by Jeremiah Burroughs.  You can get it for only $.99 on your Kindle!
4. Be prepared for this to be a life-long exercise of faith.  Perhaps there are some who can deal with something once and be done with it for all eternity, but for the majority of us, it is an ongoing battle.  This doesn't mean we've failed!  It means God is stretching us beyond what we can "handle" on our own human effort…and we must learn to daily (hourly!) lean on the strength and power of God.  For my money, this is the best place to be!
Go through a study of the Bible on this topic with an older child who is struggling in this area.  For an especially thorough, comforting, and empowering resource, I recommend Encountering the Healing Power of Forgiveness by Shawn Lantz.  Another good resource is Choosing Forgiveness by Nancy Leigh DeMoss.
(Please note: if you are reading this in an e-mail, you'll need to click through to the blog to watch the video.)


Related posts: